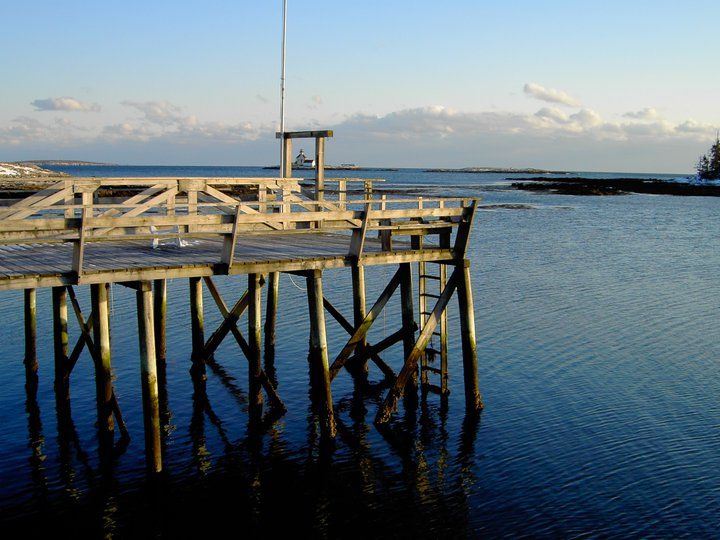 Chebeague Island is a year-round destination, and some of the seasonal activities you might enjoy are: are swimming, walks on the beach, the nine hole golf course, tennis, picnics, bike rentals, fishing, cross-country skiing, ice skating, sledding and ferry explorations of Casco Bay and her islands.
You may also wish to take advantage of the fresh lobsters readily available from island fisherman. Here are some other options you might want to try:
Serving Breakfast, Lunch & Dinner, and a full bar with draft beer and drink specials. Casual dining experience, offering fresh fun food and great drinks! Call or e-mail for hours of operation or check their facebook page for more information. What does "Slow Bell" mean? "Slow Bell" is a Maritime term that refers to a maneuvering signal sent by a ship's telegraph from the Bridge to the Engine Room. When the Slow Bell signal is sounded, it means the ship is coming into a Port, to take it easy. So, head on in, grab a menu and have a beverage. Take it easy, don't rush, you are on "Slow Bell" time! Located at 2 Walker Road, Chebeague Island, ME 04017, 207-846-3078,
slowbellcafe@yahoo.com
.
The boat yard is about a 45 minute walk from Sunset House. The boat yard houses Chebeague's post office and the sundry store, the Niblic. The
Niblic
offers free WiFi access, coffee, tasty snacks and variety of gift-type items by Chebeague artisans and other local providers.
The Inn, is right across the street from Sunset House. The Inn was built in the 1880's and was originally called The Hillcrest Hotel. In the early 1900s, the hotel burned down (ask us about The Legend of Charlie) and was rebuilt in the 1920s. The name changed to Chebeague Island Inn in 2000.
Another island family business, this is the only market on Chebeague. A variety of items are available, including coffee, sandwiches, snacks and sunscreen.
Just up the road from Chandler's Wharf, take a leisurely visit to Island Riches, a locally owned novelty and souvenir shop. Florence Rich offers all kinds of items and especially focusing on Island made items from Chebeague and Casco Bay! Theyhave flowers and plants and can order them as well.
This community based organization features a fitness room, a tennis court and a public heated pool. All are welcome and a small donation is encouraged.
If you are interested in local history, a visit to the museum is a must. Built in 1871, the building once served as a school house. Now, the building continues its tradition of education through carefully planned exhibits put together by the Chebeague Island
Historical Society.
This community hub has a good collection of new books, classics and, of course a solid regional section with books authored by those connected to Chebeague, as well as books about the island. High speed Internet access and a wireless network are available. The Chebeague Island Library was started in a classroom at the Island School in 1965 and  moved to its new home in 1990.  With many donations and the tireless efforts and expertise of volunteers, the Library has grown to its current collection of almost 14,000 materials. The Library stands as a testament to the Island community's desire for knowledge and its willingness to make it happen.
Playing golf on this 95-year-old nine-hole links style island course is reminiscent of the sport's earliest days.Chebeague's signature 7th hole has changed little since the Boston Globe described it in 1924 as "unequalled on the Maine coast." Golfers still hit their tee shot from a tee box on the Stone Wharf where lobster boats and the Chebeague ferry land and must cross a tidal inlet to a steeply pitched green 110 yards away, while avoiding a deep bunker guarding the green on the front right, woods and vegetation on the back and sides and bayside cliffs facing the tee. Despite its challenges, the 7th still offers the best chance for a hole-in-one on the course.
Exploring Chebeague
Chebeague Island has many nooks and corners that are worth exploring. Bring a pair of sturdy walking shoes and take some time to be outside and indulge your curious side. Walk up the path to Deer Point, located on the West End. One of the most photographed views on the island, you will find rock formations overlooking Casco Bay. Or, stroll up the road from the Sunset house to Hamilton Beach and go wading while you look out over the islands and to the open Atlantic ocean.
Chandler's Wharf
This wharf, where the Casco Bay Lines docks, has some of the best fishing to be found on the island. Bring your pole and have a nice day or evening trying your luck.